Best Places in Dubai to Visit: Atlantis Dubai
Which is the best area to visit in Dubai and to enjoy a luxury stay? Have you heard of Atlantis Dubai?
Such an iconic resort is a must visit!

Atlantis Dubai is one of the best places to visit in Dubai. It is an entertainment tourist destination. It is an iconic resort located in charming Dubai.

In Atlantis Dubai, you enjoy an extraordinary experience, an experience of a lifetime. If you are looking for one of the best places to stay, to dine, to get entertained, to take photos and to enjoy a multitude of amenities found nowhere else, Atlantis Dubai is your best location in Dubai.
Atlantis Dubai Aquaventure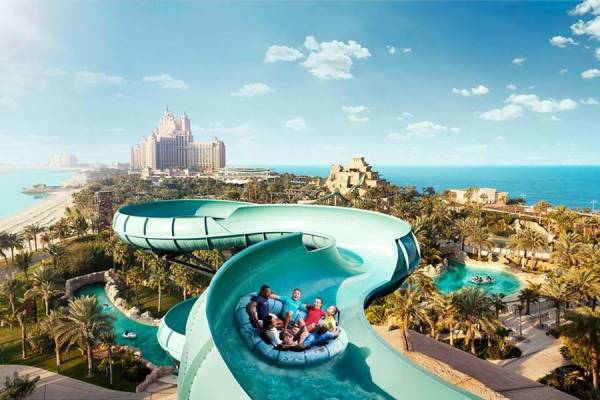 For all thrill-seekers out there, it's show time! Aqua life has got a new dimension. Slide and enjoy an exclusive experience in Atlantis Dubai waterpark that takes the form of towers that take you over sideways and under. Truly, an experience only found in Aladdin's movie in his carpet ride with Jasmine. Atlantis Aquaventure features the world's tallest waterslide and world's longest water coaster. Don't you dare close your eyes; there are a hundred thousand things to see?
Slide to the beat! Atlantis Dubai Aquaventure waterpark houses the best waterslides around the globe, featuring grand heights and turns found nowhere else.
Indescribable feeling – Soaring, Tumbling, Freewheeling
At Atlantis Dubai, enjoy a matchless aqua experience!
Odyssey of Terror would give you adrenaline rush as you race down the world's tallest waterslide taking you up and down as you accelerate before the fat big drop towards the end. Hold your breath and go!
Shockwave would give you goose bumps as you slide in the longest water coaster in the world. Slide at the speed of light. Buckle up, the drops are big yet worth trying.
Immortal Fall would take you to a whole new world of thrill. Dare to dive and enjoy cliff jumps that are incomparable.
Slitherine would be your perfect choice for racing your friends and loved ones. Race them down the world's first twin-racing tube slide and see who reaches the finish line first.

Fond of water surfing? Grab a surfing board and enjoy Atlantis Dubai Aquaventure water surfing that would give you an experience of a life time.
Into Diving and do not know where to go? Atlantis Dubai Ambassador Lagoon is the location you are looking for!
Dive at Atlantis Dubai, even if you are not a certified diver. Atlantis Dubai Ambassador Lagoon aquarium is home to 65,000 marine species including sharks and colorful fish.

At Atlantis Dubai Ambassador Lagoon aquarium, there is something for everyone depending on the visitor's age.
You do not have to be an expert at diving. At Atlantis Dubai, you are offered a high-tech underwater helmets that would give you the capability of breathing underwater and surround yourself by 65,000 marine species.
Atlantis Dubai – Thrill for your Little Loved Ones
Atlantis Dubai resort takes care of your every single need. Even tiny little ones have got an aqua space utterly dedicated for them.
Splashers Lagoon and Splashers Cove are two adventure towers within the fascinating space of Aquaventure Waterpark. It is an aqua space built specially for children.
Let your tiny little ones have a blast in Atlantis Dubai's Splashers Lagoon and Splashers Cove. There is an array of activities that are kid-friendly, encompassing enjoying waterslides, climbing towers and running around the soft play areas.
As a parent, there is no need to worry as your kid is in safe hands. Atlantis Dubai's Splashers Lagoon and Splashers Cove offer you peace of mind of safety you look for in any place for your little ones. A wide range of matters are taken care of: soft surfaces, lifeguards and a dedicated entrance.
For all junior thrill-seekers, get ready to pamper yourself at Atlantis Dubai's Splashers Lagoon and Splashers Cove, with an aqua space that houses 16 fun-filled waterslides. What are you waiting for? Tons of thrilling activities are awaiting your little thrill-seekers.
Let your kids make a splash at the biggest kid-friendly waterpark in the Middle East.
A Unique Dining Experience in Atlantis Dubai
Enjoy a unique dining experience in Atlantis Dubai that shall entice your taste buds. Restaurants in Atlantis Dubai are a mixture of inventive chef menus and casual options of ethnic dishes.
Under the one same roof, and nowhere else in the world, a wide range of celebrity chefs, award-winning restaurants and out-the-box recipes are inclusive.
Gordon Ramsay's Bread Street Kitchen & Bar
It serves modern British dishes in a lively setting. Gordon Ramsay's restaurant in Atlantis Dubai is a great popular brunch spot for families and friends.
Lunch: Daily: 12:00pm – 3:00pm
Dinner: Saturday – Wednesday: 6:00pm – 10:00pm | Thursday – Friday: 6:00pm – 11:00pm
Ossiano
It offers an unbelievable underwater dining experience found nowhere else in Dubai.
Dinner: Wednesday – Sunday: 6:00pm – 10:00pm
Wavehouse
It combines live music, gaming and crowd-pleasing food. It overlooks a high-tech wave machine that entices visitors. Wavehouse is appealing to all ages, both day and night.
Lunch: Daily: 12:00pm – 5:00pm
Dinner: Daily: 5:00pm – 11:00pm
Saffron
It is the best place in Dubai for a brunch. Saffron is also known for its comprehensive menu which has more than 200 dishes being served.
Breakfast: Daily: 7:00am – 11:30am
Dinner: Daily: 6:00pm – 10:30pm
WHITE Restaurant
Enjoy the taste of the Mediterranean cuisine and a wide range of freshly made cocktails in such a picture-perfect breezy open-air terrace.
Lunch: Daily: 12:00pm – 4:00pm
Dinner: Daily: 6:00pm – 9:00pm
Ronda Locatelli
Tuck into Italian dishes with a perfect menu curated by the famous Italian chef, Giorgio Locatelli. Surely, pizza is on top of the list and in the menu you can enjoy an array of freshly made pastas and some vegan dishes made from Italy's finest ingredients. They have a secret ingredient!
Lunch: Friday – Sunday: 12:00pm – 3:00pm
Late Lunch: Monday – Tuesday & Thursday: 3:00pm – 5:00pm
Dinner: Sunday – Tuesday: 5:00pm – 10:00pm | Thursday – Saturday: 5:00pm – 11:00pm
Got your mouth watering to enjoy a day in Atlantis Dubai resort?

Get your ticket NOW and enjoy an array of facilities and activities that shall make your travel to Dubai an outstanding experience.
No need to worry about booking a flight to travel to charming Dubai!
Turkish Airlines, Emirates, and Saudia have got some affordable packages for your flight to Dubai. Check the most recent offers that are tailored for YOU!
Tagged:
Aquaventure
Atlantis Dubai
Best Places in Dubai
Freewheeling
Soaring
Tumbling